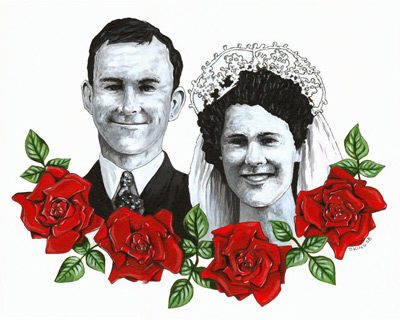 I have been commissioned to paint anything from a small house to a castle, and am always happy to discuss an art commission. I work from photographs and in close consultation with your requirements.

Portrait prices

For an accurate price it is best for me to cost a picture once I have been able to see the photos to be used. This helps me keep the cost as low as possible and still do a good job.

Send me your picture.

If photos are sent by email I can accept jpg, jpeg, tiff or pdf files as attachments or in a Word document. Please ensure the resolution is such that viewed at 8 x 10 inches detail won't be lost. Photos can be posted but again they must be large enough to show detail. If you have any questions please either phone 0118 986 6961 / 0787 601 5516 or email skart@btinternet.com.

Creating your portrait.

Once the photos are received I can then produce a pencil drawing and email it to you to approve before commencing with the painting.

Paying for your portrait.

Upon approval please pay by cheque or Paypal. Once payment is received or cheque has cleared, I will post the painting by registered mail or deliver by hand if local to the Reading area.

PRICES ORDERING
1.Contact me by phone or email to discuss requirements.
2. Send good clear photograph's by post or email and a 25% non refundable deposit.
3.On receiving your photograph's and understanding your taste and wishes I will start the painting.
4. Progress pictures of the painting can be sent via email if required.
5. A watermarked finished picture will be emailed to the client for approval.

Please allow approx.2 weeks for production of artwork. However workload may extend or reduce this time scale.